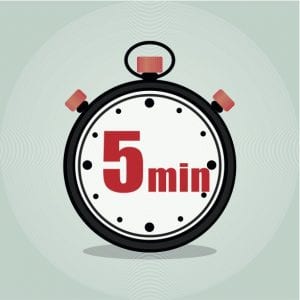 5-minute "huddles" are the new meeting trend. As Sue Shellenbarger reported in The Wall Street Journal (11/08/2017), "Long-winded monologues and Power Points are out. There is no room for small talk." … Meetings are all about "distilling … ideas and requests to … the equivalent of an elevator pitch."
Stories generate ideas, buy-in and support. They create connection, curate relationships and bring about action. Yet short meetings squelch them.
In a 5-minute huddle, traditionally well presented stories take too long. If only there was a way to tell stories in a fraction of the time and make them more powerful in the process. There is!
Here are 7 ways to present in a 5-minute huddle:
Cut set up: Don't waste words on throw away set ups like "Let me tell you a story". Instead, jump right in and tell the story.
Follow the comedy writers rule of thumb: Tell them everything they need to know to get the punch line – in this case, the essence of your story – and nothing more.
Re-Engineer Your Message℠: Borrow a technique from our advanced coaching program. Record yourself rehearsing and have the story transcribed. Then cut 20 to 50%.
Leave blanks: Leave out some details and let your listeners fill in the blanks. This has the added benefit of making them participants in your story rather than mere spectators. Participants are engaged; spectators aren't.
Tell purposeful stories: Find stories that make a substantive point.
Think Super Bowl ad: If you'd paid for 30 seconds of airtime during the Super Bowl, what would you say?
Don't bury the potent parts: Understand the difference between an incident and a story.
That last one needs explaining.
Incidents are "units of experience" – the human reactions that contain the essence of a story. While a story's details tend to be unique, incidents have a near universal appeal. They are the parts of your story to which listeners are most likely to connect to their own life and remember.
For example, the specifics of your car accident are yours alone. However, the emotions that flowed the instant you realized an accident was unavoidable … that "oh blank" moment … is something to which almost everyone can relate to some kind of event in their life.
When an audience identifies with your incidents, your stories become their stories, too. So don't bury your incidents in too much detail.
Here's the best part: stories tend to be long winded. Incidents are sound bites.
If you've been to The Speaking Intensive℠, not only do you know the difference between and "incident" and a "story," the concept is so familiar that you can jump right into an incident blindfolded!
There's a lot to be said for shortening meetings. When you become a more efficient storyteller, you will do a lot when presenting in a 5-minute huddle.
Join the legions of people who already know how to differentiate between an incident and a story by participating in The Speaking Intensive℠. Register for the next small group session on February 8 & 9 before the early registration discount ends on January 5.
Already graduated from The Speaking Intensive℠ and want to participate again? Email us for your special repeater rate.
Did you find this post helpful? Click here to see more.