Your presentations directly impact your earnings, professional growth and circle of influence.
"Yours is the only speaker training I know in which a master speaker personally does the training. It made all the difference."… Division Executive Vice President, Pacific Life
How is The Speaking IntensiveSM Different from Other
Presentation Training Programs?
Most presentation training programs have a one size fit all approach that creates a lot of sameness and puts a lid on future growth.
Similar presenters delivering similar presentations about similar offerings.
Don't become another presenter adrift in the sea of sameness.
The Speaking IntensiveSM is your opportunity to work with a master who will teach you to leverage authenticity to connect with audiences and create action.
Alan Parisse is the only person alive on the planet from the investment business who is both a Hall of Fame Speaker and a Top 21 Speaker. His unique approach to coaching presenters has netted legions of loyal protegees who have made him the go-to expert in his field.
"Truly a career changing program. I use something from The Speaking Intensive
everyday."
… Vice President Regional Director, Ivy Funds
Who Should Attend The Speaking IntensiveSM ?
Financial advisors, financial wholesalers, trainers, administrators and sales teams taking The Speaking IntensiveSM should have some presentation experience, but not everyone needs to be at the same level. A wide range of skills and experience provides the richest learning experience.
Gain insights and value from learning in a safe and supportive environment. This is your time for error without consequence.
Make an investment in yourself and your future.
"Definitely the best thing I've done for myself in a long time. Already used what I learned… and saw amazing results."
… Vice President, BlackRock
Our Format: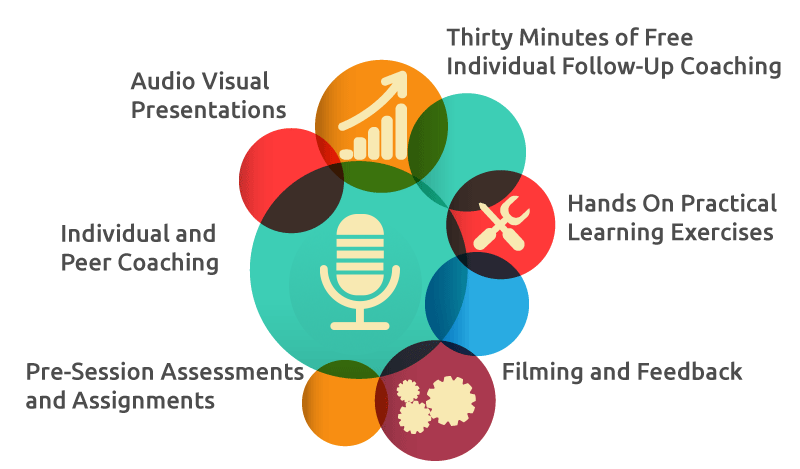 "Definitely the best public speaking training I have ever experienced."
…  Field Vice President, Pacific Life
Bring The Speaking IntensiveSM Live Virtual Format to Your Firm
"The Speaking IntensiveSM had significant impact on our team and me personally. His education process can truly be transformational. Participating not only made us more effective speakers, but it brought our team together. I highly recommend it."
… Managing, Director Pershing
"The Speaking Intensive
SM
was two of the most valuable days in my career. Far more than a speaking class, it helps you become a powerful communicator. The skills I learned work for public speaking, board meetings, staff meetings and in every day life. That's why I had my entire senior management team attend the Intensive. Great leaders are always great communicators."
… Managing Director, LPL Financial